FLOCKING AT DESIGN ON TRIDIMENSIONAL OBJECTS – MOD. FDT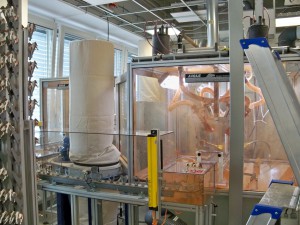 AIGLE has developed an innovative system to flock designs on three-dimensional objects. The system ensures:
Simple application on objects of different shapes and curved surfaces
Reduced industrial costs through the use of pad printing techniques
Abrasion resistance
AIGLE develops the complete printing/flocking plant, including the transport of the parts of the flock and the automation of the various stages of the process. The system consists of:
load pieces station
spraying glue station
flocking station
pre-cleaning station
drying station
final cleaning station
Depending on the object type, the required productivity and the desired design, the line is developed with automation, and specific solutions for each station, in mind.
When needed there are also actuators or robots to handle flocking, pre-cleaning and final cleaning.
The system also allows the placing of the flocking unit in already existing printing lines. In this way it uses the same printing system, pieces movement, loading and unloading as well as the oven.
The units of flocking are then completed with systems including automatic recovery and the recirculation of the flock.