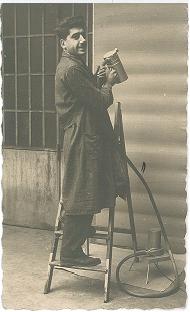 AIGLE began its activity in 1958, building flocking machinery for all kinds of applications. During its first decade, AIGLE contributed significantly to the development of flocking technology, with particular reference to its application in the textile sector. In 1968 AIGLE started the construction of coating and laminating plants, considered a natural evolution of its previous production.
AIGLE invests in research and development in order to update and improve the performance of its LAMINATING, COATING and FLOCKING plants. It has a qualified technical staff for both the construction and design of plants and individual machines.
The results of these efforts are the installation of machines that enable our customers to meet the many challenges of an increasingly demanding market.
After more than 60 years of designing, manufacturing and selling its machinery worldwide, AIGLE can be considered a partner for the development of new projects, offering tailor-made solutions to customers with special needs and specific technical requirements.
AIGLE plants are built in the factory located in Borgaro Torinese. AIGLE's structure consists of:
– Technical office for mechanical, electrical, pneumatic, thermal and hydraulic design, equipped with a 3D CAD system for industrial design.
– Mechanical workshop with modern equipment.
– Electrical/electronic department for the study and assistance in the design of electrical panels and PLC programming.
Technical and technological support for assembly is considered a fundamental part of AIGLE's sales policy process.
List of the main installations proposed by AIGLE:
extrusion and flocking equipment for automotive rubber profiles
plants for flock injection finishing on ABS and moulded/3D and on PP with manual and robotic technology (for automotive, packaging, toys, etc.)
installations for finishing fabrics with direct coating and foaming, printing (traditional and digital) for upholstery, curtains, clothing and automotive, etc.
PVC wallpaper finishing, flocking, coating and embossing plants
equipment for back-coating latex and PU carpets and artificial turf
installations for laminating fabrics through wet, hot melt powder and hot melt processes
plants for the production and finishing of thermoformed nonwoven geotextile fabrics
installations for the production and finishing of nonwoven cleaning fabrics
Equipment for print finishing (UV, PVC, pigments, etc.), flocking and glittering on paper (continuous and sheets) for packaging and decoration.
installations for the production of abrasive paper
CERTIFICATIONS